Make Space Storage - Edmonton
12235 149 Street NW, Edmonton, AB
Get 2nd month FREE or prepay a year and get 3 Months FREE
Photos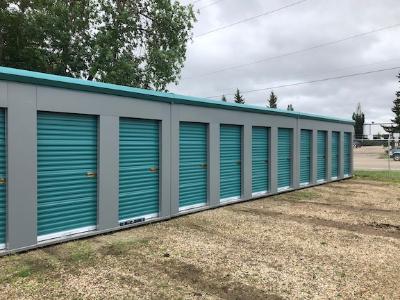 Hours
Office Hours

| | |
| --- | --- |
| Mon-Fri | 8:30am to 5:00pm |
Access Hours

| | |
| --- | --- |
| Mon-Fri | 8:30am to 4:30pm |
About Make Space Storage - Edmonton
Self Storage Rentals near Edmonton BC
Make Space Storage offers a wide range of self storage units for your business and home everywhere near Edmonton. When you are ready to start moving - simply call Make Space and talk to one of our storage professionals or come on in and see a unit for yourself. The conveniently located facility is the go-to storage facility for all of Edmonton and the surrounding area. The facility offers heated and secure units, fully gated grounds, and round the clock security monitoring. Make Space let's you control your space giving you the utmost in flexibility.
Get 2nd month FREE or prepay a year and get 3 Months FREE

✓ Safe, and secure storage
✓ Short-term and long-term
✓ Budget-friendly and dependable
✓ Personal or business storage
✓ Multiple storage unit sizes
✓ Packing supplies
Features
Climate Control
Drive-up Access
24/7 Security Monitoring
Packing Supplies
Dollies & Carts Available
Payment Options
Container Storage
Hours
Office Hours

| | |
| --- | --- |
| Mon-Fri | 8:30am to 5:00pm |
Access Hours

| | |
| --- | --- |
| Mon-Fri | 8:30am to 4:30pm |
Facility Reviews
---
Rented two Sea-can units from the Edmonton location, very easy to communicate with from getting pricing and logistics to the deliveries being very accommodating with exactly where I wanted them. Units were in great condition. Easy, friendly experience all around.
---
Some containers are so old they have multiple leaks. Took a week and a half to get that addressed. Access to the site is a gong show. They provide you with a code to open the gate but when you get there it will be locked with a keyed lock and zero access to a key. This has happened multiple times over the last 3 months. I will be clearing out of here asap and find a better run business for my storage requirements.
---
I'm bamboozled and don't believe the reviews against this business. Troy has been nothing but expectional since they opened, always honorable and compassionate business dealings. We are a local small business and rely upon their services especially since COVID has caused economic damage. We have been using Makespace storage since over 2 years.
---
Very easy to setup and organize pick up and drop off the seacan. The expertise for helping us make sure our seacan is placed safely during the winter on the streets was greatly appreciated. This help the move go really smoothly with no issues.
---
Made arrangements and rented a unit 2 weeks prior to move. Since they are not open weekends they agreed to come in for 10 an to accommodate poor hours. I rented a u haul and the only help I had came in from Calgary. I called the friday before to confirm and left voicemail. They did not show. I ate the cost uhaul rental on top of my help wasted their weekend coming down to help. I am between jobs and struggling financially so it really screwed me over. Not even a call back on the following Monday either for an apology or explanation. They also needed to be asked to mask up on our initial visit. That's bad business, go elsewhere