Sentinel Storage - Edmonton Westmount
11245 120 St NW, Edmonton, AB
1st 4 WEEKS FREE *
Photos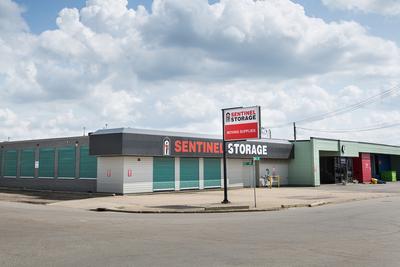 Hours
Office Hours

| | |
| --- | --- |
| Mon-Sat | 9am to 5pm |
| Sun | Closed |
Access Hours

| | |
| --- | --- |
| Daily | 6am to 11pm |
About Sentinel Storage - Edmonton Westmount
Sentinel Storage is one of Canadas most trusted brands in storage. We are committed to offering you the best storage experience possible form the time you first pick up the phone to the moment your belongings are safe and secure in any of our excellent storage facilities. We pride ourselves on our unparalleled customer service, well lit, clean and secure storage units and ongoing promotions to help make things a little easier.
Current Promotions:

Free Moving-in Van
First 4 weeks FREE
Student Special - 50% OFF
1st 4 weeks * subject to availability
* Offers may not be combined and are based on availability
Features
Climate Control
Drive-up Access
24/7 Security Monitoring
24 Hour Access
Parcel Delivery Acceptance
Drive-in Loading Bay
Packing Supplies
Dollies & Carts Available
Payment Options
"Self Serve" Kiosk
Hours
Office Hours

| | |
| --- | --- |
| Mon-Sat | 9am to 5pm |
| Sun | Closed |
Access Hours

| | |
| --- | --- |
| Daily | 6am to 11pm |
Facility Reviews
---
The facility is clean and generally pretty affordable. They recently put a new coat of paint on the doors which was nice to see. However, there never seems to be any staff around (even during the day) and it's in an area where I don't always feel comfortable going to the facility alone. There is only a punch code to enter the building and I've seen the cameras turned on multiple occasions... so I'm not sure how effective the security measures are.
---
Team members were helpful and provided good customer service. I am pleased with the storage unit; it is large and in good condition. The building itself is well maintained and very clean.
---
Terrible experience. I'm sure overall the average experience is great. mine instead proved to me how lackluster it can be if things go south. From start to finish my experience was to simply put it; bad. My original contract was not properly entered into the system in the beginning, snowballing my return visit to setup my unit into a trust-shaken start of rapport. I had to redo it all on a planned up day. When they grabbed my signed contract and shredded it saying the person I first planned it made a bunch of mistakes, I put my foot down but proceeded anyway. Second, My unit was broken into. Not all units are well protected from above, with a screwed on chainlink fence you can easily bend open. I reported it and all they did was somewhat fix the busted chainlink roof that I looked and seen many 'roofless' indoor lockers. I have now moved most of my things to my new place; I've been able to fully assess what was stolen before I go back and grab the rest. Now I have decided to write my review. My night stand is busted from being stepped on (pictured), I can fix that on my own however. What they likely did was stacked and clmbed over and dropped onto the furniture. Grabbed what they wanted than used my stuff to climb back over. When I showed up, the neighbouring door was open. With suspicions I open up mine and all my things like out. If I had my phone, I'd have THAT picture. And instead of more things being unknowingly stolen I didn't want more stolen so I quickly cleaned up but left the damage, returned and took pictures. My brand new heat gun, torque wrench, a Rampage V Edition 10 motherboard (right out from the box) 1... just 1 lowsy 6 pack of TP, and my $400 RGB halo lighting kit for my car's headlamps I was gonna install this year we're all STOLEN. It's all on the camera, because when I looked up... Of course... The fence was busted on both sides. I've shown pictures of this damage, and you can see how mangled it is after repair. You can't trust anything or anyone these days. I'll be taking necessary steps to be compensated.
---
Friendly knowledgeable Roxanne was very helpful. We were pleased with the service, price and viewing of storage unit.
---
I stopped in today comparison shopping. I only intended on getting some information and looking at a couple different unit sizes. In the end I was so impressed, not only with the facility but with the lovely staff that I reserved my unit today and secured the discount ! 4 weeks free really can't be beat! So glad I stopped here today , it's a big relief to have at least this part of my move taken care of!