Sentinel Storage - Edmonton Woodcroft
11106 151 St. NW, Edmonton, AB
1st Month Free & 30% OFF indoor winter car storage
Photos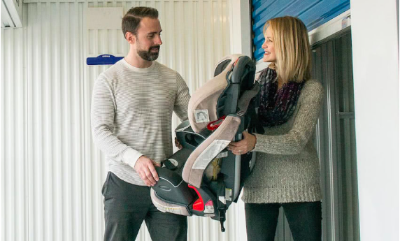 Hours
Office Hours

| | |
| --- | --- |
| Mon-Fri | 9am to 5pm |
| Sat | 9am to 5pm |
| Sun | Closed |
Access Hours

| | |
| --- | --- |
| Mon-Fri | 9am to 5pm |
| Sat | 9am to 5pm |
| Sun | Closed |
About Sentinel Storage - Edmonton Woodcroft
Sentinel Storage is one of Canadas most trusted brands in storage. We are committed to offering you the best storage experience possible form the time you first pick up the phone to the moment your belongings are safe and secure in any of our excellent storage facilities. We pride ourselves on our unparalleled customer service, well lit, clean and secure storage units and ongoing promotions to help make things a little easier.
Current Promotions:

Free Moving-in Van
First 4 weeks FREE
Student Special - 50% OFF
1st 4 weeks * subject to availability
* Offers may not be combined and are based on availability
Features
Drive-up Access
24/7 Security Monitoring
Packing Supplies
Dollies & Carts Available
Payment Options
Moving Truck
Hours
Office Hours

| | |
| --- | --- |
| Mon-Fri | 9am to 5pm |
| Sat | 9am to 5pm |
| Sun | Closed |
Access Hours

| | |
| --- | --- |
| Mon-Fri | 9am to 5pm |
| Sat | 9am to 5pm |
| Sun | Closed |
Facility Reviews
---
Marie was so thorough, she reviewed the contract, answered our questions, took us to see the unit, to confirm it was cleaned out and a good size for us. We wanted a drive up unit so, at our age we did not have to carry items far, and she got us exactly that. Marie should be the poster person for Sentinel.
---
New manager Marie has been a great help! Moved from a larger unit into a smaller one, and she helped make it go smoothly, as well as take advantage of the monthly savings.
---
Marie provided us with excellent customer service. We got the best rates and deals and will definitely be coming back to this storage unit for future use.
---
I have had nothing but bad luck over the past few years, I have had friends steal my vehicles, Rob my money stole be my belongings as well as been assaulted several times and have recently been evicted from my home because of peeping neighbours and landlord. I had been behind in a payments which restricted my access to my belongings which I have been pawning and selling off just to get by. I had gone in to catch up on my two payments (over 500) not expecting the two amazing people, who listened to my short overview of my life the last few years and it was all I could do to hold back my tears when The went above and beyond what anyone would have. They saved me money and helped me get back to a payment schedule that works better with my Aish payments. I am not used to kind, caring people, ii an So lucky and thankful to have met these people, it gives me hope that not everyone is about money, there are still good decent caring people. Thank you again to the owners and staff of this location. I am forever grateful! This is not only a place to do business, but on where Friends are made and remembered my actual name is Arone Axsen
---
I found Lori of Sentinel staff to be very helpful, knowledgeable, friendly and efficient when I was setting up my account.