Sentinel Storage - Rabbit Hill
6203 Andrews Loop SW, Edmonton, AB
1st 4 WEEKS FREE *
Photos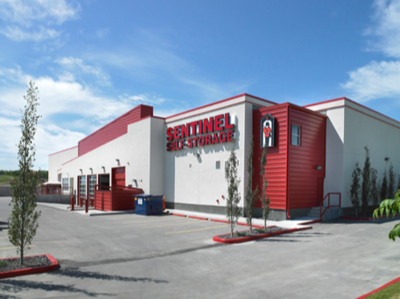 Hours
Office Hours

| | |
| --- | --- |
| Monday-Friday | 9am to 5pm |
| Sunday | Closed |
Access Hours

| | |
| --- | --- |
| Daily | 6am to 11pm |
About Sentinel Storage - Rabbit Hill
Sentinel Storage is one of Canadas most trusted brands in storage. We are committed to offering you the best storage experience possible form the time you first pick up the phone to the moment your belongings are safe and secure in any of our excellent storage facilities. We pride ourselves on our unparalleled customer service, well lit, clean and secure storage units and ongoing promotions to help make things a little easier.
Current Promotions:

Free Moving-in Van
First 4 weeks FREE
Student Special - 50% OFF
1st 4 weeks * subject to availability
* Offers may not be combined and are based on availability
Features
Climate Control
Drive-up Access
24/7 Security Monitoring
Drive-in Loading Bay
Packing Supplies
Dollies & Carts Available
Payment Options
Vehicle Storage
Moving Truck
Hours
Office Hours

| | |
| --- | --- |
| Monday-Friday | 9am to 5pm |
| Sunday | Closed |
Access Hours

| | |
| --- | --- |
| Daily | 6am to 11pm |
Facility Reviews
---
This has been a great experience! The staff is genuine! Right from the initial phone call from Michelle at this storage location, when she called to confirm my reservation, I felt supported. Everyone in the office at this location, was knowledgeable, and clear, helpful, supportive, and calm. The genuine communication with staff at this location was valuable for me during this personal hectic time of being over-busy with moving. The premises are clean and well lit and always felt safe and comfortable accessing the locker. I am grateful that we picked this location and would choose this location again for that experience. This is the best storage locker facility and will be recommending this location for that reason!
---
I've never rented a storage unit before and the staff here made it a very simple smooth process. Everyone here has been so helpful and very kind. I love Michelle! She helped me figure out a situation I had as there was a misunderstanding on my part. She definitely made my experience here a positive one. The place is very clean and the moving carts they provide make your move a lot quicker & easier. I would highly recommend this place to all of my friends and family without a doubt.
---
I have been dealing with this location for some time. I have to say the facility its self is clean and secure. But to top it off! Michelle has to be one of they best people I have dealt with. She's kind,caring,very personable and to top that off very professional and helpful! Thank you Michelle for your hard work and everything you have done for me in my time there. 😊😊
---
Well! Michelle of Rabbit Hill Sentinel Storage and other staff - You just made my day! I checked out end of April and kept forgetting to call to ensure I didn't receive any more charges to credit card. I just called (11 days later) and Michelle said I was all checked out! Nothing owing! I guess I put the move out date on file and the day after I emptied my storage space - they confirmed I've checked-out! Excellent news and excellent facilities. Only criticism (hence only 4 stars): wish you had security cameras there for the one day I was almost rear ended by a crazy guy in a work truck (while I was waiting in my vehicle for an open bay). He then proceeded to yell at me through vehicle! I was so shocked, and afraid that I would be assaulted had I gotten out of vehicle, that I didn't get a license plate to report. Made me so scared of returning alone, that I didn't return to facilities until the checkout date when I was accompanied by a friend. I did mention it to a staffer but don't believe it was actioned. Had there been cameras on site, the man in a work truck could have possibly been identified and reported to his work place. Violence should not be tolerated and women (and others) should be made to feel safe in your facilities.
---
The most helpful people! Gave me a ton of notice when I was going to be billed for my unit, made it super easy canceling my unit, and were always available to answer any questions, and super nice lady at the front desk! Definitely recommend